Commercial Solar Window Tinting
Whether they're beating down on your business, your home, or your car, the sun's rays can damage surfaces and make the environment uncomfortably hot. UV rays can damage your skin, causing skin cancer and make it impossible to work when the sun is in your eyes. However, this is a problem with a simple solution. Commercial solar window tinting can protect your property and your health while providing other benefits.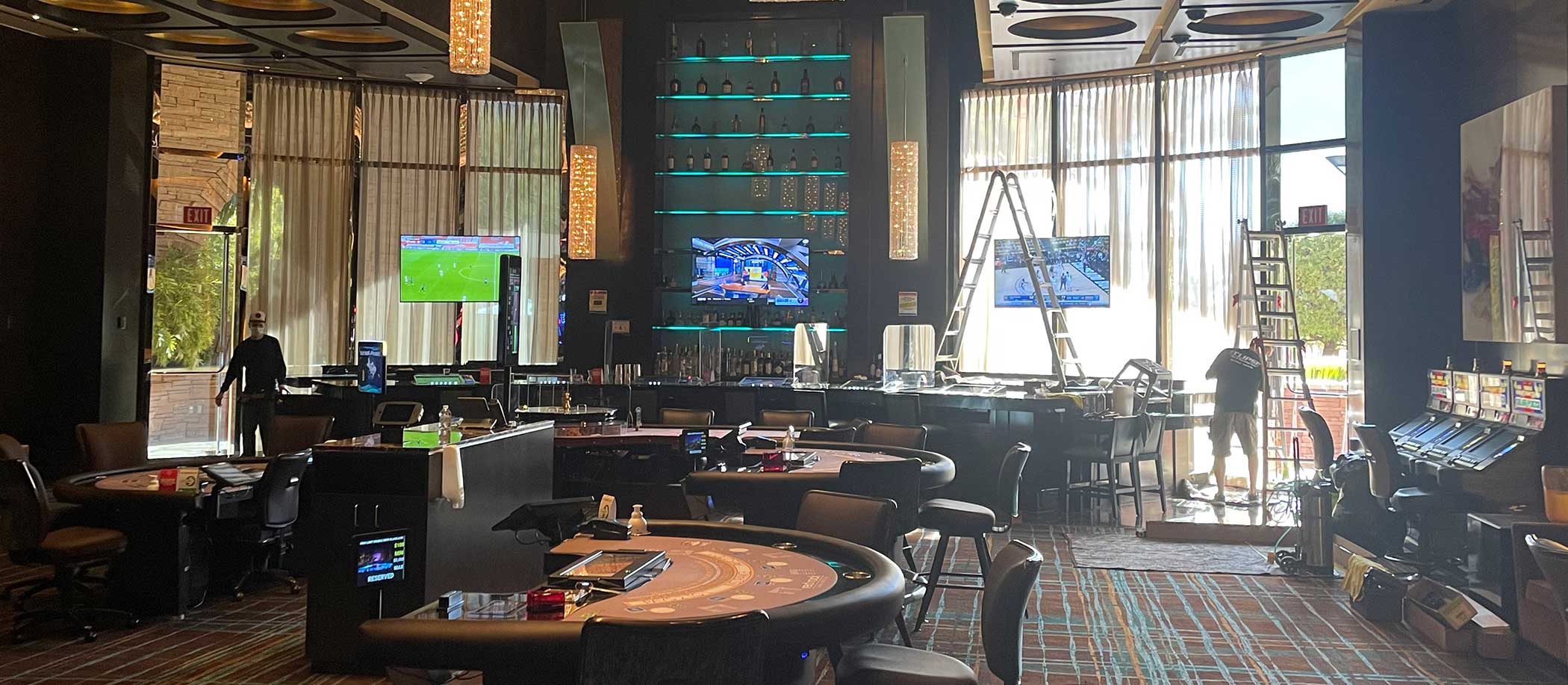 Why Get Commercial Solar Window Tinting?
Not only does commercial solar tinting allow safety and security for your business, but it also helps with your customer service, here are seven major benefits Total Eclipse can offer you with their high-quality solar window films.
Clients and customers visiting your business have a better experience when the environment is cool and comfortable. Window tinting services can help reduce heat by up to 75%, allowing your employees and customers a cool space out of the sun
The Las Vegas sun is not only hot, but it's also bright. Even if your building only hosts employees instead of customers, you'll find that a comfortable and less blinding environment is a more productive one. With a window tint, you can get your employees back to work.
A lesser-known benefit of tinting commercial windows is workplace safety. Commercial security films come in thicker versions that keep the glass from scattering about if it shatters, making it harder for intruders to get inside. It also prevents injuries in the event of accidental glass breakage.
Using our film manufacturers' solar tints on your commercial building make your business more comfortable, but it can also save you money on your utilities. When the heat goes down naturally thanks to solar window tints, you won't need to turn up the air!
Reduce health and fading risk
Our solar window films help protect both skin and furnishings. With our help, you won't have to wear your sunscreen indoors to keep your skin safe. Reduction rays also help prevent fading furnishings.
Commercial solar window tints also help the appearance of a building; giving them a more contemporary look or a more concise design. Some of our tints also provide an anti-graffiti to provide a removable surface that cost-effective to eliminate the need for glass replacement.
Installing window tints is a quick and easy process. With all the benefits and speed of installation, it's hard to not see the overall assistance of commercial solar window tints.
Solar tinting your commercial windows brings down the temperature and reduces the glare off surfaces to give everyone a more pleasant environment. By keeping out the sun's rays, tinted windows help keep the room at a more consistent temperature. Your cooling system doesn't have to work as hard, so your energy bill goes down.
Commercial Solar Window Tinting Las Vegas
Total Eclipse is a family-owned and operated window tinting company with over 23 years of experience in Las Vegas. We're so confident in our product that we offer lifetime warranties!  If you're ready to take charge of the environment in your residential and commercial buildings contact our tinting professionals today.