Residential Safety and Security Window Tinting
A window is a more than a viewpoint; it's an access point, too. This means that even the most durable windows remain a real vulnerability to dwellings and the people that occupy them. In addition to the possibility of theft, there is also the potential damage and injury caused by accidents, hazards, and UV rays.
The chance of being a victim of property crime in Las Vegas is 1 in 34. With Las Vegas's burglary and theft rates at nearly double the national average, it is more important than ever to provide security and protection for your home, family, building, business, belongings, and private/sensitive information.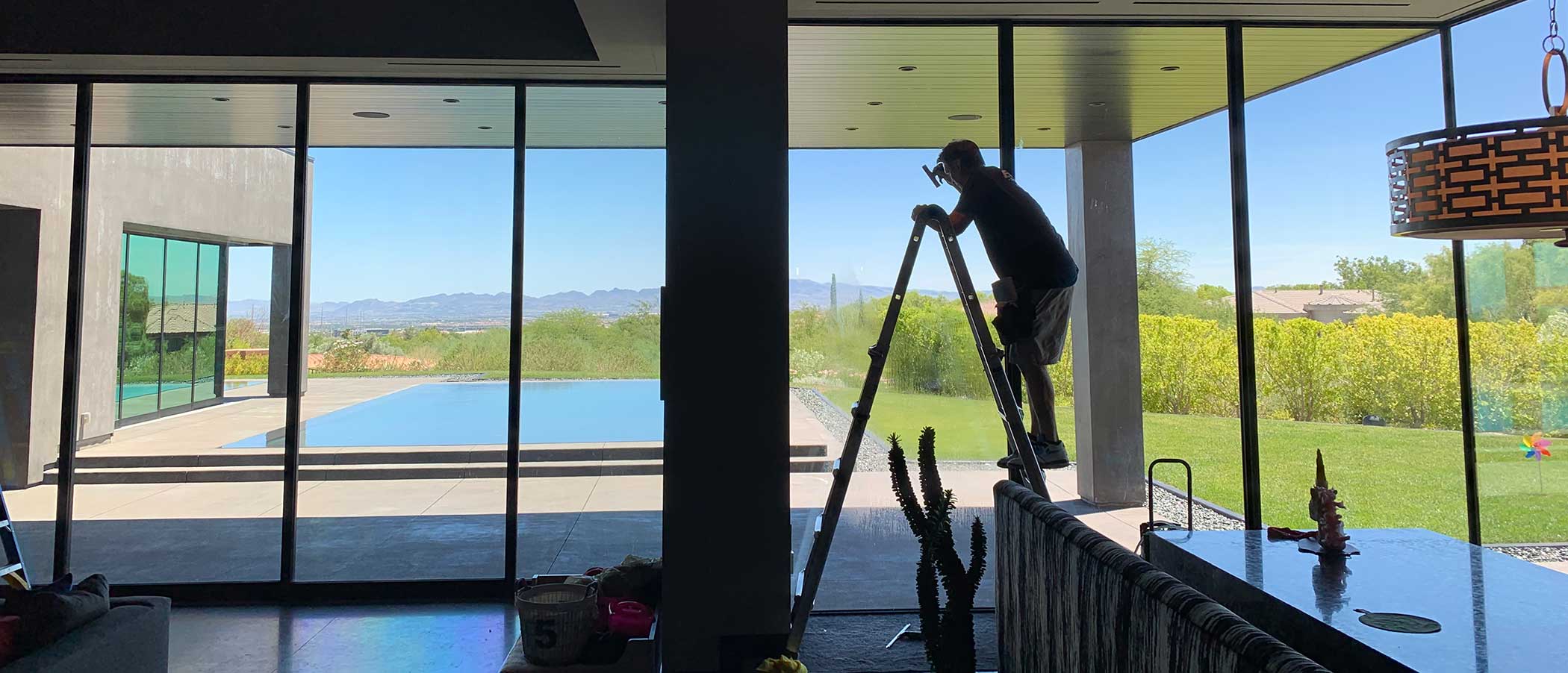 How can you protect your home?
Total Eclipse can install SolarGard Armorcoat and 3M Ultra Safety and Security films with confidence that you are protected. Safety and Security Film offers a way for businesses and homeowners to combat these possible threats by reinforcing windows with strong, heavy-duty polyester. With a resilient adhesive that bonds the film to the window's surface, security film protects against break-ins, as well as natural disasters and vandalism.
Beyond maintaining the beauty brought by your property's windows, security film offers a wide range of benefits:
Tinted Security Film Allows natural light in while minimizing glare, a significant source of eye strain. It offers 99 percent protection against skin cancer-causing UV rays as well. This heavy-duty film not only provides all the same benefits as the clear film, but it also provides privacy and up to 80% Heat Rejection. This high amount of Heat Rejection lessens air conditioning and energy costs during the summer months and keeps interiors cool.
Clear safety and security films protect against physical damage while remaining almost invisible to tenants and visitors. The films secure glass fragments together on the adhesive of the film to increase resistance to shattering.
Security and Safety films avert theft opportunities, especially from smash-and-grab practitioners.
Exterior security film offers similar benefits to a typical security film but is installed on the outside of the building, which makes it ideal when interior access to the building is limited.
In the case of a break-in, an accident or a natural disaster, the Security and Safety film decreases the potential for injury or damage caused by broken glass in a potential blast and also reduces, if not eliminates, sharp edges caused by concussive impact.
Residential Safety & Security Tint Installation in Las Vegas
Total Eclipse can help you determine which security film is best for you and your property's situation. Our knowledgeable, service-focused professionals are here to help improve the security and stability of your property's windows without sacrificing any benefits the windows offer. Total Eclipse can provide you with several options and also any additional information on the installation process. Contact us today to get started with your safety and security window film installation!